ECB Coaches Association
The England and Wales Cricket Board Coaches Association (ECBCA) 
Has two forms of membership
Associate Member £10 – open to everyone over 16 who is interested in cricket coaching and agrees to abide by the coaches code of conduct
Full Member £30 - To hold a minimum of Foundation 1  or an ECB Level 1, NCA Teaching Award plus an up-to-date ECB DBS Check
As a member you will enjoy a wide range of benefits, keeping you up to date and providing ideas and practical support:
Insurance (Full Member only) – specialist cricket coaching insurance included
Wear the three lions - discounts on member only clothing and equipment
Access to iCoach - an online resource for all volunteers 
Wings to Fly – videos of top coaches sharing the latest thinking.
Coaches Matter - regular technical information, practices as well as cricket coaching news and opportunities.
Hitting the Seam - practical ideas and practices for you to use
Coaching Insight - cricket reports from the ECB, technical bulletin round-ups and articles on coaching
CA inspire - mini-programmes and series designed to support your coaching
ECB CA Forum - share ideas and ask questions with fellow coaches and the ECB.
---
Latest News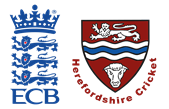 CRICKET COMMITS TO ACTION PLAN TO TACKLE RACISM AND ALL FORMS OF DISCRIMINATION
---
Events
Marches League AGM
7:30 PM
Herefordshire Cricket Board Meeting
7:00 PM
Herefordshire Cricket Board Meeting
7:30 PM
Safeguarding and Protecting Children
6:30 PM
Foundation 1 Course
9:30 AM
Safe Hands Training (Club Safeguarding Officers)
6:30 PM
Foundation 1 Course
9:30 AM
Herefordshire Cricket Board Meeting
7:00 PM
Safeguarding and Protecting Children
6:30 PM
Safe Hands Training (Club Safeguarding Officers)
7:30 PM
---