ECB Core Coach
Purpose
The ECB Core Coach programme will become an entry level qualification for coaching cricket in England and Wales alongside ECB Foundation I Coach. This programme is one part of a wider strategic response to needing more coaches on the ground able to inspire and develop players.
ECB Core Coach will replace the ECB Certificate in Coaching Children's Cricket and ECB Coaching Young Children and Adults' Cricket provision.
Programme Descriptor
This programme has been designed to give learners the knowledge, skills and confidence to lead player-centred coaching sessions. An ECB Core Coach will be qualified to lead coaching sessions independently and without supervision.
Programme Structure
The programme will consist of fourteen modules in total. Six e-learning modules are integrated with eight face-to-face modules.
Specification
8 face-to-face modules - 3 hours each
17 years old to enter - Certification given at 18 years old
Assessment - Observations, multiple choice and short answer questions
Certification pre-requisites - valid ECB DBS and valid safeguarding training
---
Latest News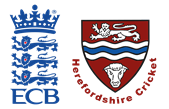 CRICKET COMMITS TO ACTION PLAN TO TACKLE RACISM AND ALL FORMS OF DISCRIMINATION
---
Events
Marches League AGM
7:30 PM
Herefordshire Cricket Board Meeting
7:00 PM
Herefordshire Cricket Board Meeting
7:30 PM
Safeguarding and Protecting Children
6:30 PM
Foundation 1 Course
9:30 AM
Safe Hands Training (Club Safeguarding Officers)
6:30 PM
Foundation 1 Course
9:30 AM
Herefordshire Cricket Board Meeting
7:00 PM
Safeguarding and Protecting Children
6:30 PM
Safe Hands Training (Club Safeguarding Officers)
7:30 PM
---