Herefordshire Schools Cricket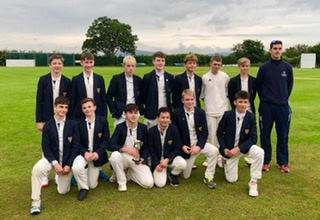 Annual Report 2021 
Despite all the issues with Covid, we were delighted that 6 schools were able to enter the competitions. It was obvious that the games were enjoyed by  both players and staff. We would like to congratulate both players and staff on the excellent standard of cricket that was played, particularly in light of the time lost due to Covid.
Jack Roberts Cup Final (u 15's )   John Masefield 157/6 Cathedral  153/5. John Masefield won by 4 runs
The 2021 final was a  played  at Burghill and Tillington C.C .on 17th June.
Masefield openers Lucas Recordon ( 62) and Dominic Seaborn-Williams ( 41) put on 105 for the opening partnership. Harry Malcolm hit 12 as the Cathedral bowlers hit back with wickets for Gus Wixey, Tom Kennedy, Ben Yeo (2), Featherstone and Beavan. Two good catches for Sam Blagborough. In reply, after the early loss of 1 wicket, Freddie Norman ( 64) and Gus Wixey ( 21) took the score to 81/1 after 9 overs. In spite of good batting from Ben Yeo (21) and Sholto Lacey ( 17), keen fielding and good bowling from Jack Cambridge ( 2 wickets) and Lucas Recordon ( 2 wickets) and an excellent stumping from Malcolm just did enough . 11 runs off the last over were just too much for HCS. This was an excellent match between 2 good teams.
Mrs Carole Roberts was present and assisted the secretary in the Presentation of the Jack Roberts Cup to the winning captain.
Jack Roberts Plate Final Kingstone  148/5    Lucton 113/7. Kingstone won by 35 runs. 
This final was postponed and eventually played at Wormelow CC on 29th June .Ollie Langford ( 19) , Will Smith ( 25) and Xander Elms-Lester (42 ) all batted well for Kingstone. Ellis Yates took 2-25, Powell 1-13 and Wall 1-1., with good catches for Joel Bassett, Ellis Yates and Nathan Taylor- Wood. In reply, Ellis Yates scored 27  and Joel Bassett 19 as Lucton  were up with the run rate.. However the introduction of man of the match  Will Smith who took 5-10 in his 4 overs changed the outcome of the match as his straight bowling proved deadly.
Mr Richard Wydenbach, Hon President HSCA, presented the Jack Roberts Plate to Ollie Langford, and commented that Kingstone had produced a complete team performance. 
Chadd Cup ( u 14's). Cathedral 100/9  St Mary's 54 All out.  Cathedral won by 46 runs. 
Cathedral won the toss and batted. Runs for Rhodri Jones 19, Jay Rai 18 and Harry Jackson 6. St Mary's bowled and fielded well with Kye Rees taking 4-18 and Elliott Jones 2-12.   5 catches were taken . In reply, Ralph Warner top scored for St Mary's with 26 , but good accurate bowling from  man of the match Charlie Nation ( 5-25) and Rhodri Jones ( 4-21) eased Cathedral to a comfortable win.
Mr  John Escott presented the Chadd Cup the Cathedral captain and The Ed Price Plate to St Mary's  captain. 
Richard Wydenbach Cup   St Mary's 125 All Out Kingstone 126/1. Kingstone won by 9 wickets. 
St Mary's opening pair of Seb Slocombe (23) and Rufus Darke ( 22) put on 60 for the first wicket in 5 overs. Thereafter , the scoring pace slowed, with 3 wickets for Archie Langford,, 2 for Caspar Biela, and 2 for Callum Maddy. In reply, man of the match Archie Langford hit a magnificent unbeaten 105 to steer Kingstone to a comfortable win.
The Richard Wydenbach Cup  and the match ball was presented by Mr Richard Wydenbach President HSCA, to Archie Langford, and Mr Simon Swancott, representing Hereford Lions Club, presented a trophy to St Mary's. 
Richard Wydenbach Plate Final. Lucton 39 All Out  Cathedral 41/3. Cathedral won by 7 wickets. 
Cathedral fielded first in damp conditions at Pentland Gardens. Finn O'Meara took 3-6, Stripey Hughes 2-4, and 1 wicket each for Gabriel Allbright and Ollie Vernon. Good fielding and an excellent run out from Allbright saw Lucton bowled out for 39. In reply, an electric start to the Cathedral innings with 2 wickets  for James, but Tom Bevan batted sensibly to make 18 n.o. to steer HCS to a comfortable win.
Mr Richard Wydenbach, Hon President HSCA, presented his plate to the winning captain.
David English under 12 Cup Competition. Cathedral 99/8  St Mary's 101/2. St Mary's won by 8 wickets.
Cathedral batted first with Barney Suter making 15 and contributions from Mr Extras !Eliot  Gayle was outstanding as wicket-keeper for St Mary's. Wickets for Ethan 1-19, Ben 1-19, Theo 1-17, Esther 2-7 and Rufus Darke 2-5.In reply, St Mary's got off to a good start with an opening partnership of 46 between Rufus Darke (8)  and Eliot Gayle .Freddie Powell was outstanding as wicket-keeper.
Man of the match Eliot Gayle ( 33 no) hit the winning runs in the 19th over
Mr Richard Wydenbach, President HSCA, presented the match ball to Eliot Gayle, the runners up cup to HCS  and the U12 Cup to Rufus Darke, captain of St Mary's. 
H.S.C.A. would like to thank the following : 
Herefordshire Umpires Association 
Burghill and Tillington C.C.
Wormelow CC
Tony Clifford – Jones
Kieram Hallam
Steve Watkins,  Richard Skyrme and all at Herefordshire Cricket
Simon Swancott of Hereford Lions
R.Hall Hon Sec July 2021
---
Latest News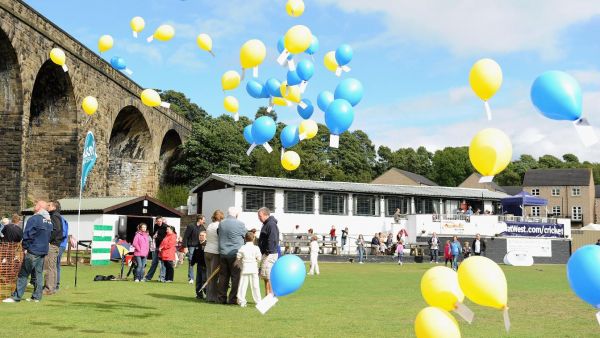 Places and Spaces
A £7 million pot with up to £10,000 available in match funding for Crowdfunder projects, as part of a Birmingham 2022 Commonwealth Games package to help community sport and physical activity groups improve places and spaces across the country.
---
Events
Super 1's - All disabilities welcome Age 12-25 - Every Thursday from 4.30pm-5.30pm starting 19th May
4:30 PM
Shropshire and Oxfordshire V Herefordshire U18's T20 competition - Didcot CC
10:30 AM
Herefordshire U12's V Worcestershire U12's - Pentland Gardens
1:00 PM
---