Lady Taverners Competitions

A great opportunity for girls to compete with their friends in the fastest growing part of the game, initially against local schools in the early rounds, then to Regional finals and then National Finals. Plenty of fun with everyone involved & enthusiastically supported by friends and family.
For the first time, due to Covid-19, Lady Taverners took place outside at Hereford Cathedral School grounds in May and June. Hereford Cathedral School won the U13 trophy, and Lady Hawkins won the U15 trophy. For 2022, Hereford Cricket have decided to run both an indoor and outdoor competition, as this will allow girls to experience more game play.
Contact Jodie Slater for more details.
jodieslater@herefordshirecricketltd.co.uk
---
Latest News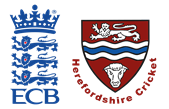 CRICKET COMMITS TO ACTION PLAN TO TACKLE RACISM AND ALL FORMS OF DISCRIMINATION
---
Events
Marches League AGM
7:30 PM
Herefordshire Cricket Board Meeting
7:00 PM
Herefordshire Cricket Board Meeting
7:30 PM
Safeguarding and Protecting Children
6:30 PM
Foundation 1 Course
9:30 AM
Safe Hands Training (Club Safeguarding Officers)
6:30 PM
Foundation 1 Course
9:30 AM
Herefordshire Cricket Board Meeting
7:00 PM
Safeguarding and Protecting Children
6:30 PM
Safe Hands Training (Club Safeguarding Officers)
7:30 PM
---