Scoring Courses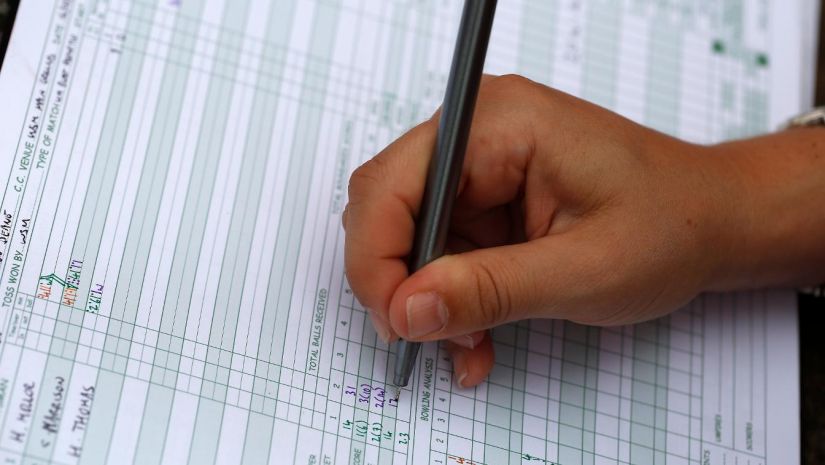 Introductory Course 
The aim of this course is to provide you with the basic skills and knowledge to record a cricket match. It won't teach you everything you need to know, but it will give you the tools and confidence to get started.
Topics covered include: completing a scoring record, recognising umpire's signals, standard scoring symbols
Basic Scoring (Online Course)

This free entry level course is designed to provide you with all the skills needed to start scoring You don't need any prior knowledge of scoring to participate.
The course covers the basics of scoring a game of cricket such as scoring symbols, umpire signals, dismissals and gives a helpful overview of the Laws of the game
Club Scorer
How to record a cricket match.
The course for anyone wanting scoring on a regular basis and is the only one to comprehensively teach you how to score. This course is suitable for complete beginners and existing scorers who want to fine tune their skills.
For further information on all courses and to book  : Click Here
HACO would suggest any scorer volunteer do the basic Scoring Course prior to attending the practical course.
---
Latest News
---
Events
Super 1's - All disabilities welcome Age 12-25 - Every Thursday from 4.30pm-5.30pm starting 19th May
4:30 PM
Schools Dynamos festivals from 14th June to 24th June
9:15 AM
HCCC U14 V Wales U14 Eastnor
11:00 AM
Cricket wales U12 V HCC U12 at Kidwelly CC
12:00 PM
All Stars and Dynamos every Monday night
5:00 PM
Edd Price Cup - Pentland Gardens
11:00 AM
HSCA Plate - Pentland Gardens
11:00 AM
Girls EPP - Pentland Gardens - every Thursday
4:00 PM
HCC U12 V Cricket Wales U12 - Pentland gardens
11:00 AM
Cricket wales U11 v HCC U11 - Port Talbot
11:00 AM
Wiltshire U18 V HCC U18 - Burbage and ER CC
11:00 AM
HSCA Schools Cups and Plate U13 - Pentland Gardens
1:00 PM
JKHS Girls V Lady Hawkins Girls - Pentland Gardens
6:00 PM
HSCA Schools Cup and Plate U12 - Pentland Gardens
1:00 PM
Dynamos - Year 4 county final - Pentland Gardens
9:15 AM
---