U15
The trials process is currently ongoing. The squad is TBC.
The U15s played 16 games, with 3 wins, 11 losses, and 2 no result. Top performances with the bat were Indiana Jerram with 316 runs, a high score of 130 with an average of 158.00. Next is Oliver Langford with 296 runs, a high score of 62* with an average of 26.91. Lastly is Monty Kennerley with 206 runs, a high score of 65 and an average of 18.73. Top performances with the ball were Oliver Langford with figures for the season of 68 overs, 5 maidens, 432 runs, 12 wickets with an economy rate of 6.35. Next is Harry Butler with figures of 64.1 overs, 0 maidens, 358 runs, 10 wickets with an economy rate of 5.58. Lastly is Shay Langley with figures of 40.3 overs, 1 maiden, 286 runs, 9 wickets with an economy rate of 7.06. Top performances in the field were Oliver Langford with 12 fielding catches. Next is Will Jenkins with 4 wicket keeping catches, 2 stumpings and 4 fielding catches. Lastly is Joseph Pugh with 3 fielding catches.
U15 coach Christiaan Ferreira said:
Our U15 fixtures were split between ECB Cup games and friendlies against the Wales Regions. In the ECB Cup matches we came up against the likes of Warwickshire, Worcestershire and a very strong Oxfordshire and of course a Country, namely Wales !
Needless to say these matches were tough for the boys and it was pleasing that during the season the bowlers improved with their line and length and batters became more patient, helped by better shot selection. We had two very close games against Worcestershire losing our home game with the last ball.
We had better success against the Wales Regions winning all of our games.
There were some notable performances by individuals both with bat and ball.
The team was adequately led by Ollie Langford who volunteered to be Captain, so full marks to him
Overall a successful season in which the boys developed and matured both personally and as cricketers.
---
Latest News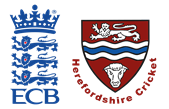 CRICKET COMMITS TO ACTION PLAN TO TACKLE RACISM AND ALL FORMS OF DISCRIMINATION
---
Events
Marches League AGM
7:30 PM
Herefordshire Cricket Board Meeting
7:00 PM
Herefordshire Cricket Board Meeting
7:30 PM
Safeguarding and Protecting Children
6:30 PM
Foundation 1 Course
9:30 AM
Safe Hands Training (Club Safeguarding Officers)
6:30 PM
Foundation 1 Course
9:30 AM
Herefordshire Cricket Board Meeting
7:00 PM
Safeguarding and Protecting Children
6:30 PM
Safe Hands Training (Club Safeguarding Officers)
7:30 PM
---