THARINDI'S CRICKETING JOURNEY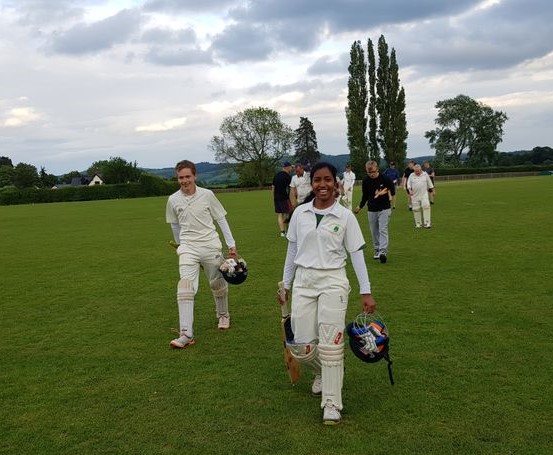 8 Mar 2022 | By Steve Watkins
Today, Tuesday 8th March, is International Women's Day. We asked Tharindi Attalipitiya to write a few words for the occasion.

The first time I played cricket was when I got my Dad's Kookaburra bat out and smacked a tennis ball into the neighbour's garden; little did I know this would be the start of eleven years playing cricket with no end in sight.
I was always taught that there was no ceiling to what I could achieve and I wanted to constantly push boundaries, this encouraged me to always test the limits in what is a male dominated sport. At a young age, being the only female in my club wasn't easy, there was nobody who I could look up to and I felt that I had to constantly prove myself. There was a lack of support for female players, if I wanted to play, I had to adjust, not the other way around. Constant judgement from others, especially boys, as well as many uncomfortable situations which made things difficult, however I persevered and it helped me gain confidence, independence and has made me who I am today.
Despite these difficulties I was able to succeed, I was the first female from my local club to play in the Worcestershire League, I am one of two female England Cricket Board's Level 2 qualified coaches in Herefordshire and I was privileged enough to be given a rare chance to visit parliament in the House of Lords to represent Herefordshire's female cricketers in the event 'Chance to Shine'. My biggest achievement, however, is that it does not matter that I am a female anymore, I have gained respect, equality and I have paved the way for aspiring young female talent.
The advice I'd give to my younger self and all young female cricketers is to not put limitations on yourself just because you are a girl. You can push back boundaries if you step outside your comfort zone and be confident in who you are, don't let other's opinions get in the way and most of all enjoy what YOU love doing.
Be the change you wish to see in the world.
-------------------------------------------------------------------------------------------
Tharindi has been a brilliant example as a player and a coach, and will help us launch our exciting new programme for girls this season.
The theme of IWD this year is diversity:
"Imagine a gender equal world. A world free of bias, stereotypes and discrimination. A world that's diverse, equitable, and inclusive. A world where difference is valued and celebrated. Together we can forge women's equality. Collectively we can all #BreakTheBias".
 
SHARE
---
Latest News
---
Events
Super 1's - All disabilities welcome Age 12-25 - Every Thursday from 4.30pm-5.30pm starting 19th May
4:30 PM
Schools Dynamos festivals from 14th June to 24th June
9:15 AM
HCCC U14 V Wales U14 Eastnor
11:00 AM
Cricket wales U12 V HCC U12 at Kidwelly CC
12:00 PM
All Stars and Dynamos every Monday night
5:00 PM
Edd Price Cup - Pentland Gardens
11:00 AM
HSCA Plate - Pentland Gardens
11:00 AM
Girls EPP - Pentland Gardens - every Thursday
4:00 PM
HCC U12 V Cricket Wales U12 - Pentland gardens
11:00 AM
Cricket wales U11 v HCC U11 - Port Talbot
11:00 AM
Wiltshire U18 V HCC U18 - Burbage and ER CC
11:00 AM
HSCA Schools Cups and Plate U13 - Pentland Gardens
1:00 PM
JKHS Girls V Lady Hawkins Girls - Pentland Gardens
6:00 PM
HSCA Schools Cup and Plate U12 - Pentland Gardens
1:00 PM
Dynamos - Year 4 county final - Pentland Gardens
9:15 AM
---